W&M Day for Admitted Students Returns In Person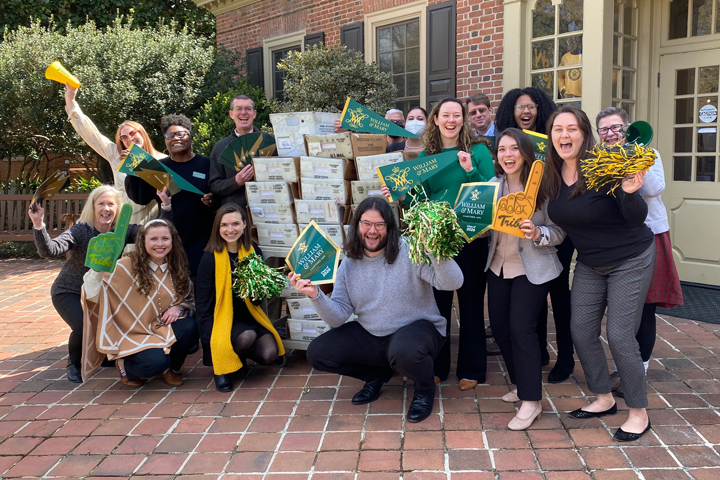 by Erin Zagursky

|

April 6, 2022

After two years of virtual events, the William & Mary Day weekend for admitted students returns primarily in-person April 8-10, offering newly admitted undergraduates the chance to learn about the university and meet potential future classmates.
More than a thousand admitted students are expected to visit campus throughout the weekend, with approximately 3,800 students and family members registered for the main event on Saturday. In addition to campus tours, participants can attend sessions on topics ranging from research and study abroad opportunities to career services and campus diversity. As part of the program, participants will also have the chance to meet current students, alumni and professors.
"Admitted Students Day is always an exciting day, but we are especially excited this year to finally welcome our future students to campus in person," said Kate Perry, Associate Dean for Admissions. "We have many fun events and sessions planned and the entire W&M community is ready to welcome the new members of the Class of 2026. After this record year of applications, we are all looking forward to finally putting names to faces and inviting the newest students to explore their new home."
William & Mary received 18,080 applications for the Class of 2026, a new high for the school and a 3.5% increase over last year. Over the past two years, W&M has seen a 27% increase in undergraduate applications. The university began sending acceptance notifications in December to early decision applicants. Regular decision contestants were notified of their status on March 26.
Tim Wolfe, Associate Vice President for Enrollment and Dean of Admissions, said he was proud of the work done by his team to review the increased number of applications to select potential members of the next first class. year of W&M.
"They didn't let a record number of applications stop us from being able to really dive in and read each student's story," he said. "Academic records and data are part of the process, and this class has clearly demonstrated that they are ready to excel as scholars at William & Mary. However, it is equally important to hear the voices of students, appreciate their range of talents and experiences, and recognize how important they will be in the W&M community. »
Admitted students who are unable to attend the Admitted Student Day weekend have other opportunities to visit W&M, including the You Belong program on April 8 and Green & Gold Days on April 4, 18 and April 25. About 1,000 to 1,500 admitted students and their families are expected to attend these programs, Wolfe said.
Additionally, W&M will likely see around 6,000 to 8,000 visitors for its standard information sessions and campus tours throughout April, most of them high school students and their families. Prospective or admitted students who cannot make it to campus can view the university's new Virtual Campus Tour online.
When it begins in the fall, W&M's class of 2026 is expected to number approximately 1,600 to 1,650 students. Wolfe and his team look forward to meeting some of them this weekend, he said.
"All those long hours and tough decisions — you realize it's so worth it when you get the chance to meet admitted students and their families," Wolfe said. "I look forward to welcoming them to campus this month, and I know it will be a fun and exciting time for the entire university."