Winston-Salem Symphony Orchestra Announces Six Music Director Finalists and 2022-2023 Lineup | Music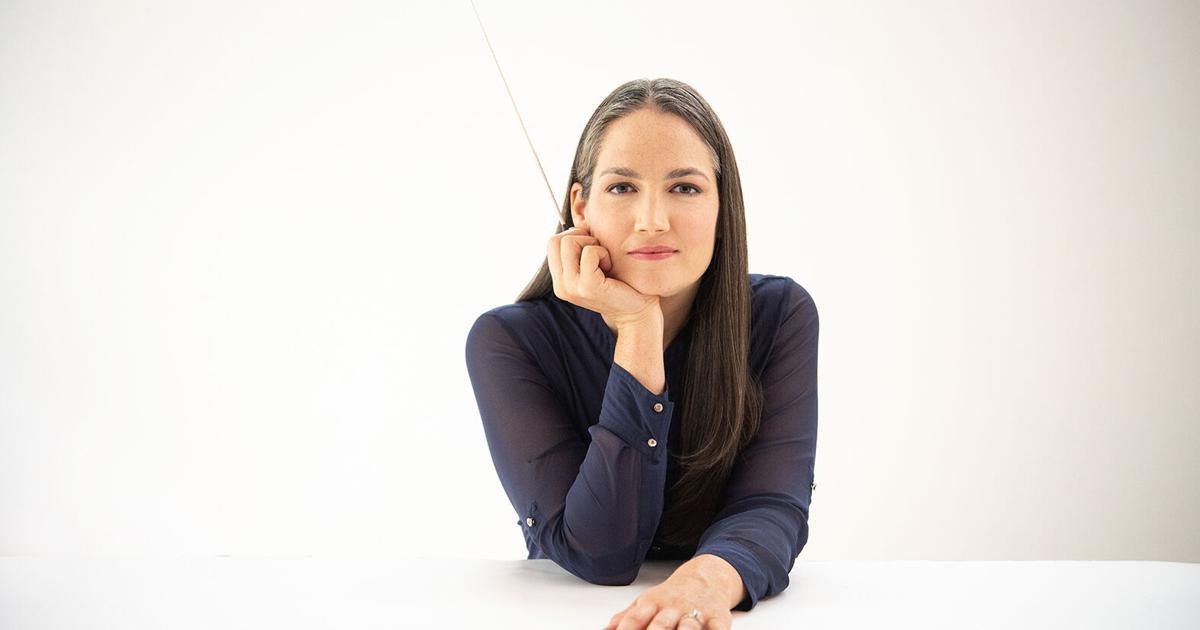 Each finalist will lead a concert of classics over the next season
WINSTON-SALEM, NC (May 23, 2022) – The Winston-Salem Symphony announced the six finalists for its conductor search as well as its 2022-23 season on Saturday, May 21. As part of the upcoming season, finalists for the Symphony Music Director position will each lead a pair of Classics Series concerts, which will give musicians, staff, the Board of Directors and the community of the Symphony Orchestra the opportunity to see the candidates in action.
"We are extremely excited to introduce the finalists of our Music Director Audition season to the community," said E. Merritt Vale, President and CEO of Winston-Salem Symphony. "These conductors are the most talented and qualified group we have had in any music director search I have been involved in. We now look forward to inviting the entire community to get involved as the "The Symphony Orchestra is making the important decision of choosing your next Music Director. We have a very exciting season in store, and we can't wait to share it with everyone!"
The announcement of the Symphony Orchestra's next Music Director is scheduled for June 2023. The Winston-Salem Symphony Orchestra formed a Music Director Search Committee in January 2022 and, through an ambitious "by invitation could cut a traditional research schedule in half. This search is to replace former Music Director, Timothy Redmond, who stepped down in August 2021.
Each candidate will conduct two classical concerts (Saturday evening and Sunday afternoon), each of which will feature a guest artist. Throughout the 2022-2023 season, the community will have many opportunities to interact with the finalists and will play a key role in helping the Symphony Orchestra decide who will ultimately take over to lead the Winston-Salem Symphony Orchestra. to the future.
CLASSIC SERIES
Classics Location: Stevens Center at UNC School of the Arts, 405 W. Fourth Street in downtown Winston-Salem.
MENDELSSOHN'S MUSE
September 17, 2022 at 7:30 p.m.
September 18, 2022 at 3:00 p.m.
Andrew Grams, conductor
Simone Porter, violin
Sergei Rachmaninoff – Symphony No. 3, 1st movement
Felix Mendelssohn – Violin Concerto
Modest Mussorgsky – Pictures at an exhibition (arr. Ravel)
Andrew Grams became Music Director of the Elgin Symphony Orchestra after an international search in 2013 and recently concluded his tenure there after eight seasons. His charismatic conducting and ease of access have made him an audience favorite of the Elgin Symphony Orchestra. With a unique combination of intensity, enthusiasm and technical clarity, Grams gradually built a reputation for dynamic live performances, ability to connect with audiences and building long-lasting orchestras. Grams received a Bachelor of Music in Violin Performance from the Juilliard School and a Diploma in Conducting from the Curtis Institute of Music. For a full biography, visit andrewgrams.com/bio/.
FIXED POINTS AND ROTATING WORLDS
October 8, 2022 at 7:30 p.m.
October 9, 2022 at 3:00 p.m.
Paul Haas, conductor
Awadagin Pratt, piano
Ludwig van Beethoven- Coriolanus Opening
Jessie Montgomery– Sleevesfor piano and strings
Sergei Prokofiev – Symphony No. 5
Conductor and composer Paul Haas has served as Music Director of the Northwest Arkansas Symphony Orchestra since 2010 and the Thunder Bay Symphony Orchestra since 2017. Following his groundbreaking 2006 concert project titled REWIND , Haas then founded Sympho, an organization dedicated to the creation and performance of symphonic experiences in unusual places. As a composer, Haas has received 15 commissions from a wide variety of iconic locations over the past decade. For a full biography, visit paulhaas.com/#bio.
CONCERTO (R)EVOLUTION
November 12, 2022 at 7:30 p.m.
November 13, 2022 at 3:00 p.m.
Vladimir Kulenovic, conductor
Julian Schwarz, cello
Florence Price – Concert Overture #2
Joseph Haydn – Cello Concerto No. 1 in C major
Béla Bartók – Concerto for orchestra
Vladimir Kulenovic was music director of the Lake Forest Symphony on Chicago's North Shore and was associate conductor of the Utah Symphony/Utah Opera. Under his leadership, the Lake Forest Symphony has experienced unprecedented growth in its 60-year history, reflected in increased artistic excellence, critical acclaim, season offerings, audiences, and recognition as an orchestra of the Year by the Illinois Arts Council. He was also resident conductor of the Belgrade Philharmonic Orchestra and principal conductor of the Kyoto International Music Festival in Japan. Kulenovic studied at the Juilliard School, the Peabody Institute and the Boston Conservatory. For a full biography, please visit vladimirkulenovic.com/vladimirkulenovicbio.
INNOVATORS AND LEGENDS
January 7, 2023 at 7:30 p.m.
January 8, 2023 at 3:00 p.m.
Stilian Kirov, conductor
Terrence Wilson, piano
Ruth Crawford Seeger – Andante for strings
Ludwig van Beethoven – Piano Concerto No. 1
Sergei Rachmaninoff – Symphony No. 2
Stilian Kirov is currently Music Director of the Illinois Philharmonic in Chicago's Southland and the Bakersfield Symphony in California. Kirov has proven to be not only a dynamic artistic director, but also an enthusiastic educator and community leader, continuing to build on his previous successes as Associate Conductor of the Seattle Symphony Orchestra and Associate Conductor of the Memphis Symphony Orchestra. Also a talented pianist, he was a gold medalist at the Claude Kahn International Piano Competition in Paris in 2001. For a full biography, visit stiliankirov.com/biography.
HOMELAND MUSIC
March 4, 2023 at 7:30 p.m.
March 5, 2023 at 3:00 p.m.
Vinay Parameswaran, conductor
Lara St. John, violin
Jean Sibelius – Finland
Antonin Dvořák – Violin concerto
Witold Lutoslawski – Concerto for orchestra
Vinay Parameswaran joined the Cleveland Orchestra as Assistant Conductor beginning in the 2017-2018 season and was promoted to Associate Conductor in 2021. In this role, he conducts the Cleveland Orchestra in several dozen concerts each season at Severance Hall, Blossom Music Festival, and on tour. He is also Music Director of the Cleveland Orchestra Youth Orchestra. Known for his energetic presence, imaginative programming and compelling musicianship, Parameswaran came to Cleveland after three seasons as Associate Conductor of the Nashville Symphony, where he conducted over 150 performances. For a full biography, visit vinayparameswaran.com/about.
FESTIVALS AND GODS
May 20, 2023 at 7:30 p.m.
May 21, 2023 at 3:00 p.m.
Michelle Merrill, conductor
Winston-Salem Symphony Choir
Gustav Holst – The Planets
William Walton – Belshazzar's Feast
Michelle Merrill has inspired audiences across the country with her detailed and vibrant performances. A passionate and dynamic artist, she was for four years assistant then deputy conductor of the Detroit Symphony Orchestra, where she also held the title of community ambassador for Phillip and Lauren Fisher. In addition to her growing schedule of guest conductors, Merrill currently serves as Music Director of the Coastal Symphony of Georgia, where she has sparked the growth and expansion of the orchestra's offerings both on and off stage. For a full biography, visit michelle-merrill.com/biography.
MUSIC WHO POP SERIES
Popping Music Location: Reynolds Auditorium, 301 N. Hawthorne Road in Winston-Salem.
A CAROLINE CHRISTMAS WITH THE CIRCUS!
November 26, 2022 at 7:30 p.m.
November 27, 2022 at 3:00 p.m.
Karen Ní Bhroin, conductor
Circus of the Symphony, guest artists
The annual tradition of the Triad continues with the return of the Cirque de la Symphonie. Experience high-flying holiday delights as Cirque aerial acrobats perform stunning death-defying routines above the Symphony. Cirque will delight audiences young and old with new and expanded aerial acts this year, leaving your spirits soaring for the start of the holiday season.
IN THE AIR TONIGHT: SYMPHONIC GENESIS AND PHIL COLLINS
February 4, 2023 at 7:30 p.m.
Stuart Chafetz, conductor
Phil Collins' unique drumming and songwriting has left a lasting mark on music. Along with megaband Genesis and their many solo hits, Phil Collins, along with bandmates Tony Banks and Mike Rutherford, wrote unforgettable hits featured in this symphonic tribute featuring two singers. Highlights of the show include "Follow You Follow Me", "Abacab", "I Missed Again", "Turn It On Again", "Sussudio", "One More Night", "Take Me Home", "Two Hearts" and the iconic "In the air tonight".
REM EXPLORED WITH MIKE MILLS AND ROBERT MCDUFFIE
April 15, 2023 at 7:30 p.m.
REM founding member Mike Mills joins the Winston-Salem Symphony Orchestra for a symphonic evening exploring the music of the world's best-loved indie-turned-mega-rock band, REM The concert features some of the most popular hits from around the world. group, including those sung and written by Mills. Additionally, the concert includes the Concerto for Rock Band, Violin and String Orchestra that Mills composed for violinist and longtime friend Robert McDuffie.
THE MUSIC OF STAR WARS
May 8, 2023 at 7:30 p.m.
Grab your lightsaber and join the symphony orchestra on a journey to that galaxy far, far away for an evening of music by legendary composer John Williams. The concert will feature music from all three Star Wars trilogies, allowing you to experience the entire Skywalker saga, including the adventures of Anakin, Luke, Rey and all their friends through the power of live music and your Winston – Salem Symphony.
About the Winston-Salem Symphony Orchestra
Proud to be one of the most acclaimed regional orchestras in the Southeast, the Winston-Salem Symphony will celebrate its 75th anniversary in 2022. The Symphony inspires listeners of all ages from the North Carolina Piedmont Triad with a variety concerts, educational programs and community involvement. initiatives every year.
The Symphony Orchestra is supported by season presenting sponsors Truist & Bell, Davis & Pitt, PA; Betty Myers Howell, 75th Anniversary Patron; Chris and Mike Morykwas, Presenting Sponsors of Symphony Unbound/Etherbound; the Winston-Salem/Forsyth County Arts Council, the North Carolina Arts Council and other dedicated sponsors. Subscriptions and individual tickets are on sale now and can be purchased online at wssymphony.org or by calling the Symphony box office at 336-464-0145.