Vigo School Board votes 5-2 to close and reassign Meadows Elementary School | News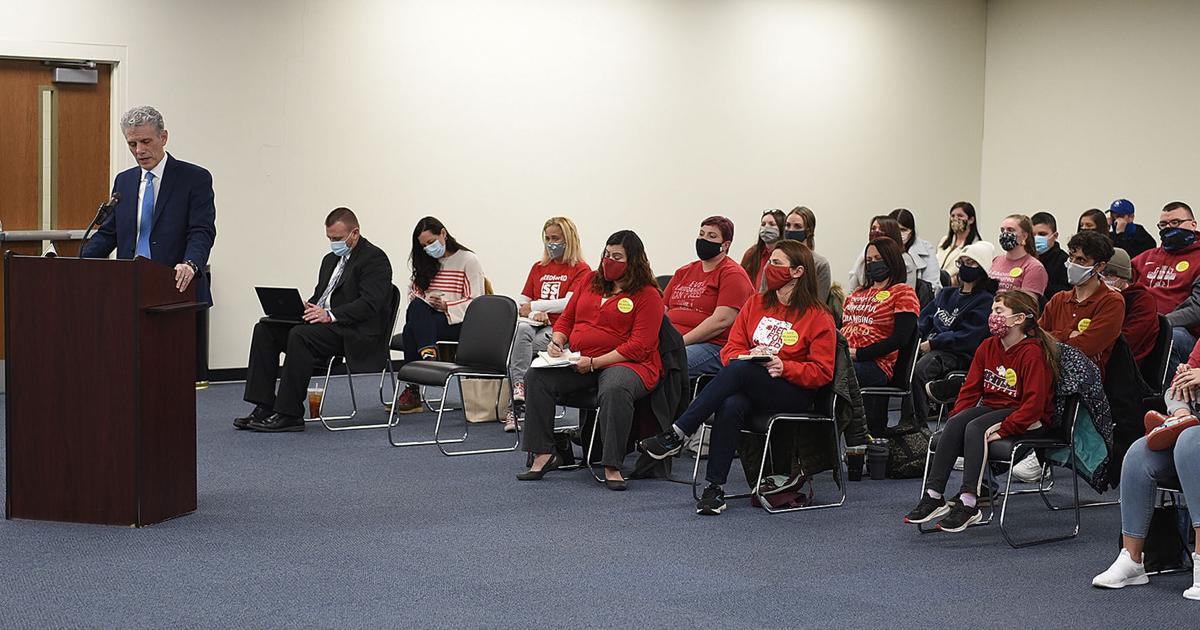 The Vigo County School Board voted 5-2 Monday to close and reassign Meadows Elementary at the end of the current school year.
Board members Joni Wise and Rosemarie Scott voted against closure.
Prior to this vote, Wise made a motion to keep Meadows open, a motion seconded by Scott. The motion was defeated with five council members opposed, and only Wise and Scott in favor.
Introducing his motion, Wise said, "Our strategic plan was not designed as a static document. It's a fluid document that must be changed as needed … we are now. "
Wise also said: "This board has listened to solid and logical reasons why Meadows Elementary should not be closed or reassigned. To my fellow board members, please do the right thing and vote to keep Meadows open."
Scott didn't believe that district registrations were dwindling so quickly that Meadows had to close this year.
"Are we so poor as a business? Do we need to save so much money, "Scott said. "That's what we have to ask ourselves… We can delay this vote and get back to the drawing board."
Prior to the board vote, Superintendent Rob Haworth presented the formal administrative recommendation to close and reassign the school and the reasons why. The closure / reallocation is part of a cost reduction plan unanimously adopted by the Board of Directors in January 2020, a plan integrated into a strategic plan unanimously approved in February 2020.
Action is needed to reduce district spending and resize the number of elementary schools in response to declining VCSC enrollment. In 1983, the district had 18,000 students; by 2030, it is estimated that the number of registrations will drop to 13,000.
The district, which has been in deficit, is trying to align spending with revenue.
With the closure / reallocation of Meadows, the district will then have 15 primary schools.
Economy of scale and the efficient use of district funds are essential for the VCSC as it moves forward and plans for the future, Haworth said.
Board member Hank Irwin said the Meadows reallocation was part of a comprehensive plan needed to bring district spending in line with income. "If we deny this, we have to find something else," he said.
Board member Amy Lore said it would be "a dereliction of duty to ignore the spending shortfalls we have been facing" and not implement such a carefully crafted plan.
Jackie Lower described it as a very difficult decision. "I think we have a fiduciary responsibility to the community and the whole community of Vigo County School Corp. She made a motion to accept Haworth's recommendation, and Irwin seconded it.
Meadows will be grouped into Franklin, Lost Creek, Davis Park and DeVaney elementary schools. "These schools have room," said Haworth.
The school would be transformed into a learning lab with possible programming that would include: a financial center for field trips that include Let's Get Real and Biz Town; the NEAT experience; and the relocation of the virtual elementary program.
"Advice, I know it's not easy for you. I know you ran for office to make a difference. We hope making a difference can be easy," said Haworth. "But, you know where we are as a district in terms of our registrations… and in terms of our funding."
During citizen comments, Meadows PTO President Jenny Mueller told the Board: "I am extremely disappointed with the lack of integrity that I have witnessed" from the members of the Board of administration who voted to close the school.
Questions raised by the Meadows community were not addressed, she said. Mueller suggested that the decision to close the school was made a long time ago and that the board's decision to close the school represented a "stamping" of the administration's recommendation.
Mueller suggested "there is even more mistrust within the community" of the school board.
Wyoming parent Pruitt told the school board, "It was a test. Your community has tested you. With the exception of two people here, you failed. You failed students, parents, teachers and your community.
Meadows' parent Brian C. Payne pointed to an informal advice from the state's Public Access Councilor that Elementary Consolidation Committee meetings were subject to open door law – but these meetings were not not public.
"VCSC set an example of how NOT to openly run a committee," Payne said.
Jon Mayes, school board attorney at Bose, McKinney and Evans, said the public access advisor's informal opinion "assumes certain facts that are not true." The committees that the school board creates to provide input to the board are going through an open door, he said.
Other committees or task forces created to provide information directly to the superintendent and administration "are not subject to the open door law," Mayes said. Their work may generate a recommendation that the superintendent presents to the board.
After the board meeting, relative Angela Tanner said the parents intended to pursue the matter with the public access adviser. "If it is in our favor, we will demand a trial," she said.
She personally plans to send her daughter to St. Patrick's School.
Additionally, Tanner said some of the parents plan to actively oppose school board members seeking re-election who voted to shut Meadows down.
At an organizational meeting, the board voted to make Stacy Killion the new board chair, Amy Lore vice chair and Jackie Lower secretary.