Sunday street closures with the return of Five Boro Bike Tour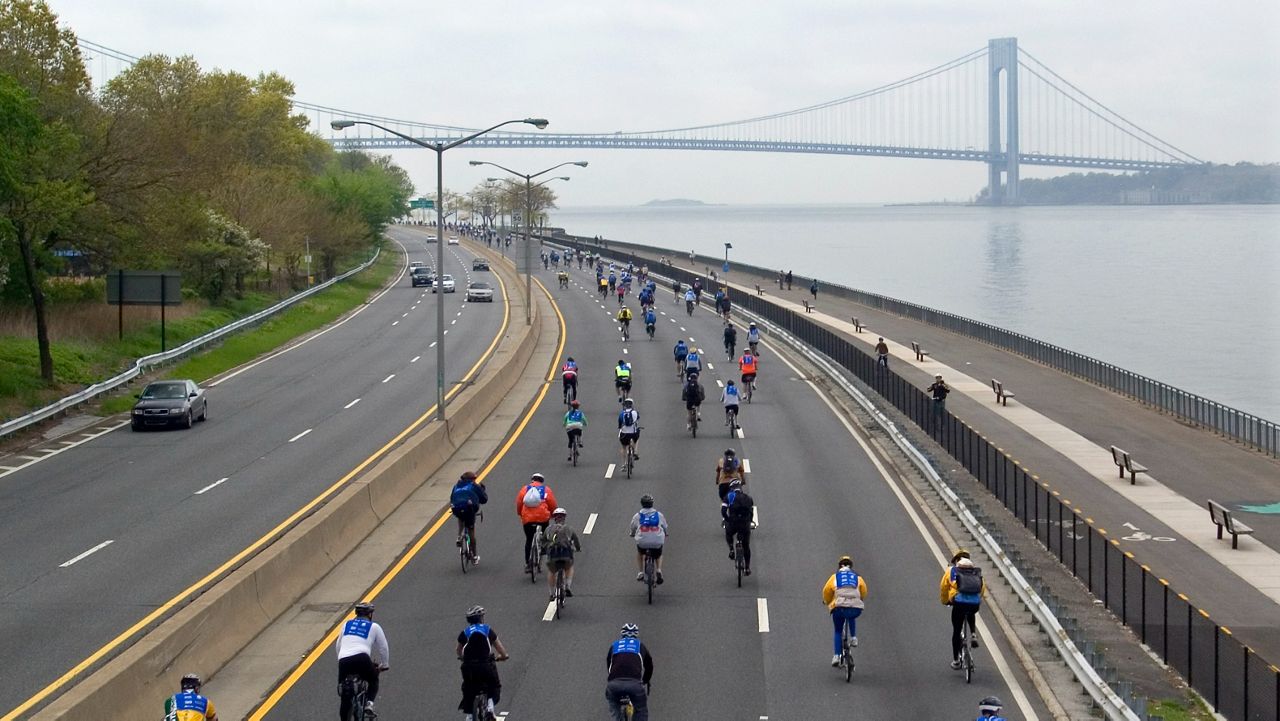 The Five Boro Bike Tour returns on Sunday, with tens of thousands of cyclists expected to attend the 40-mile charity run to raise money for free bike education programs.
The city will close major thoroughfares to make commuting easier on Sunday, including parts of FDR Drive, the BQE, the Ed Koch-Queensboro Bridge and the Verrazzano-Narrows Bridge.
Programs supported by the tour reach 30,000 New Yorkers a year, according to Bike New York, the nonprofit that organizes the tour.
"New York's future is on two wheels," said Mayor Eric Adams said in a letter published by the organization. "Bike New York has been an important ally in our united mission to promote cycling, protect and empower cyclists in our city, and encourage forms of movement that reduce congestion and greenhouse gas emissions. ."
The city estimates 32,000 cyclists will participate in the ride, taking them from the Battery to the Bronx, down FDR Drive to the Queensboro Bridge and Astoria before heading south through Brooklyn and finally over the Verrazzano-Narrows Bridge. .
A "Finish Festival" will be held at the 40 mile bar from the Empire Outlets shopping center in Brighton Heights, just around the corner from the Staten Island Ferry.
The MTA is encouraging cyclists to use the Metro-North and Long Island Rail Road to enter the city, temporarily suspending bicycle permit requirements on Saturday and Sunday. Subway stations the agency prefers to use include Brooklyn Bridge-City Hall, Bowling Green, the three stops at Chambers Street, World Trade Center, and Cortlandt Street.
The transport authority is also asking riders not to use Fulton Street, whether Wall Street, Park Place, Rector Street or Whitehall Street stations "as they are not well equipped to handle large volumes of bicycles".
The streets will be closed from 7 a.m. and some will remain closed until 7 p.m.
Here is a full list of street closures for the tour:
Manhattan Portion:
Greenwich Street between Battery Place and Morris Street
Trinity Place between Morris Street and Liberty Street
Church Street between Liberty Street and Canal Street
Chambers Street between Broadway and West Broadway
Worth Street between Broadway and West Broadway
Canal Street between Broadway and 6th Avenue
6th Avenue between Franklin Street and West 59th Street
West 59th Street between 6th Avenue and 5th Avenue
Grand Army Plaza between West 59th Street and East Drive
East Drive between Grand Army Plaza and Center Drive
Center Drive between 5th Avenue and East Drive
East Drive between Center Drive and Adam Clayton Powell Jr. Boulevard
Adam Clayton Powell Jr. Boulevard between West 110th Street and West 135th Street
East/West 135th Street between Adam Clayton Powell Jr. Boulevard and Madison Avenue
Madison Avenue between East 135th Street and East 138th Street
Madison Avenue Bridge (to the Bronx)
Peter Midnight Plaza between State Street and South Street
Whitehall Street between South Street and Water Street
State Street between Whitehall Street and Battery Place
Battery Place between State Street and West Street
Morris Street between Broadway and Greenwich Street
Albany Street between West Street and Greenwich Street
Greenwich Street between Rector Street and Cedar Street
West Broadway between Vesey Street and Barclay Street
West Broadway between Murray Street and Warren Street
Rector Street between Broadway and Greenwich Street
Cedar Street between Broadway and Greenwich Street
Liberty Street between Broadway and Greenwich Street
Dey Street between Broadway and Church Street
Vesey Street between West Street and West Broadway
Barclay Street between Broadway and West Broadway
Warren Street between West Street and West Broadway
Murray Street between Broadway and West Broadway
Duane Street between Broadway and West Broadway
Thomas Street between Broadway and West Broadway
Leonard Street between Broadway and West Broadway
Franklin Street between Broadway and West Broadway
White Street between Broadway and West Broadway
Walker Street between Broadway and 6th Avenue
Lispenard Street between Broadway and 6th Avenue
Part of the Bronx:
138th Street between the Madison Avenue Bridge and 3rd Avenue
3rd Avenue between 138th Street and the 3rd Avenue Bridge
Rider Avenue between 138th Street and 137th Street
137th Street between Rider Avenue and 3rd Avenue
3rd Avenue Bridge (towards Manhattan)
Portion of Manhattan (continued):
Harlem River Drive / FDR Drive (southbound) between the 3rd Avenue Bridge and East 116th Street
East 116th Street between FDR Drive and Pleasant Avenue
Pleasant Avenue between East 116th Street and East 114th Street
Harlem River Drive / FDR Drive (southbound) between 116th Street and 63rd Street exit
East 63rd Street between FDR Drive (southbound) and the Queensboro Bridge exit
Queensboro Bridge exit between East 63rd Street and East 60th Street
Queensboro Bridge upper level (to Manhattan)
Queen part:
21st Street between Queens Plaza South and Hoyt Avenue North
Queens Plaza South between 21st Street and Vernon Boulevard / Alternate Route
Hoyt Avenue North between 21st Street and 19th Street
19th Street between Hoyt Avenue North and Ditmars Boulevard
Ditmars Boulevard between 19th Street and Shore Boulevard
Shore Boulevard between Ditmars Boulevard and Astoria Park South
Astoria Park South between Shore Boulevard and 14th Street
14th Street between Astoria Park South and 31st Avenue
31st Avenue between 14th Street and Vernon Boulevard
Vernon Boulevard between 31st Avenue and 44th Drive
44th Drive between Vernon Boulevard and 11th Street
11th Street between 44th Drive and the Pulaski Bridge
Pulaski Bridge (to Brooklyn)
Brooklyn Portion:
McGuiness Boulevard between the Pulaski Bridge and Greenpoint Avenue
Java Street between McGuinness Boulevard and Franklin Street
Greenpoint Avenue between McGuinness Boulevard and Franklin Street
Franklin Street between Java Street and North 14th Street
Kent Avenue between North 14th Street and Williamsburg Street West
Williamsburg Street West between Kent Avenue and Flushing Avenue
Flushing Avenue between Williamsburg Street West and Navy Street
North Elliot Place between Flushing Avenue and Park Avenue
Navy Street between Flushing Avenue and York Street
York Street between Navy Street and Gold Street
Gold Street between York Street and Front Street
Front Street between Gold Street and Old Fulton Street
Old Fulton between Furman Street and Prospect Street
Cadman Plaza West between Prospect Street and Tillary Street
Tillary Street between Cadman Plaza West and Adams Street
Brooklyn Bridge Promenade between Tillary Street and Center Street
Furman Street between Old Fulton Street and Atlantic Avenue
Atlantic Avenue between Furman Street and Columbia Street
Columbia Street between Atlantic Avenue and BQE West Entrance Columbia Street
BQE / Gowanus Expressway between BQE West Entrance Columbia Street and Verrazano
Lower level of the Verrazano Bridge (toward Staten Island)
Staten Island Portion:
Bay Street between New York Avenue and Hylan Boulevard
Hylan Boulevard between Bay Street and Edgewater Street
Edgewater Street / Front Street between Hylan Boulevard and Hannah Street
Hannah Street between Front Street and Bay Street
Bay Street between Hannah Street and Richmond Terrace
Richmond Terrace between Bay Street and Nicholas Street Wall Street between Richmond Terrace and Dead End