Phi Beta Kappa UK Chapter Inducts 49 New Members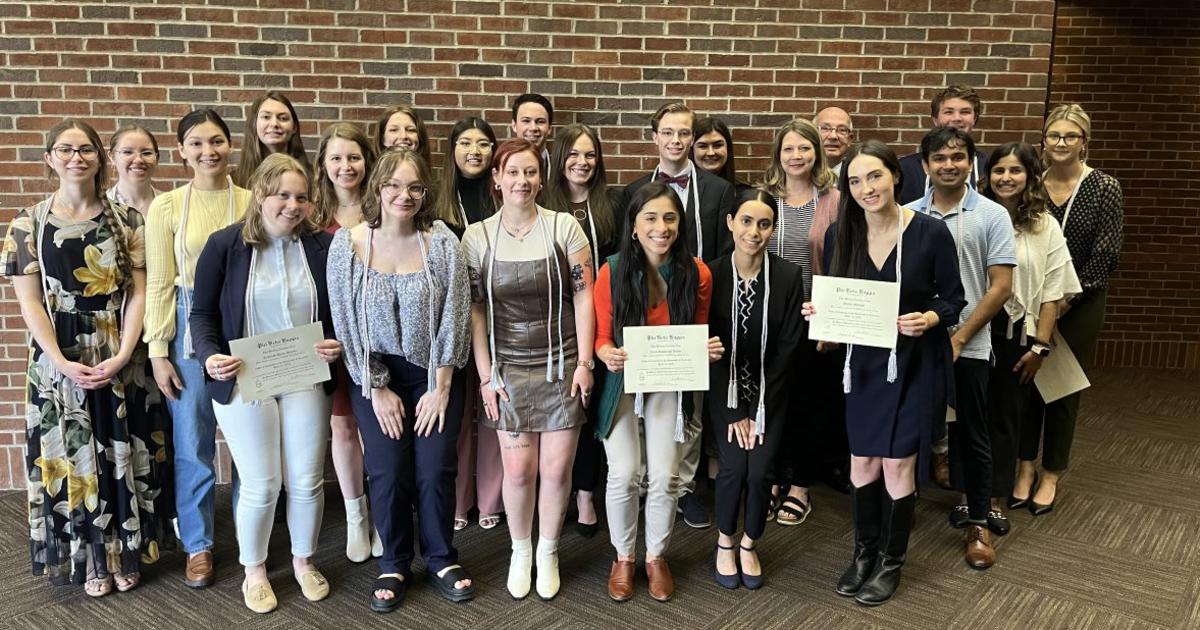 LEXINGTON, Kentucky (May 6, 2022) — The University of Kentucky Chapter of Phi Beta Kappa (PBK) recently inducted 49 new members into the prestigious Academic Honor Society. This year's induction ceremony took place on Wednesday, April 13 at the Singletary Center for the Arts.
"We are extremely proud of the students admitted to Phi Beta Kappa from the University of Kentucky," said Anna Bosch, chapter president and professor of linguistics. "This honor recognized their hard work and commitment to a broad liberal arts education in the humanities, social sciences, and natural sciences."
Celebrating excellence in the liberal arts and sciences, Phi Beta Kappa is the oldest and most prestigious honor society and opens many doors during the careers of its members. It contributes to lifelong learning opportunities and rounded lives outside of career, which follows the company's motto "Love of learning is the guide of life". Phi Beta Kappa elects over 15,000 new members annually from 290 chapters across the United States. There are also nearly 50 active alumni associations across the country that allow members to continue to actively affiliate with society after graduation.
"It is a great honor to be inducted into Phi Beta Kappa and to be recognized for our academic achievements in the liberal arts and sciences," said Robert Vaughan, a history major. "Credit for this achievement must be shared with the professors and loved ones who have guided and supported our pursuit of scholarship. We are privileged to stand alongside members of this prestigious society as proud British graduates, working together with curiosity and creativity for the betterment of our world.
The UK Chapter of Phi Beta Kappa would like to encourage the many faculty, staff and graduate student members of Phi Beta Kappa to get involved with the campus chapter. With an invigorated PBK chapter on campus, we can develop campus-wide programming and take advantage of opportunities offered by the national office, such as their Visiting Scholars program. If you would like to engage with the UK Chapter or receive communications from us, please contact C. Lynn Hiler, Program Coordinator for the Chellgren Center, [email protected] or Anna Bosch, [email protected]
The 2022 inductees are:
College of Arts and Sciences
Ashley Sinclair
Chloe Balls
Rachel Bandy
Zachary Bannon
Sarah Bart
Drew Beecham
Kimberly Bosch
Hanako Butcher
carla bravo
Johanna Campos Sanchez
Supriya Challa
Jordan Coon
Sophia Cosgrove
Coulter Sereniti
Carmen Cox
Robert Crawford
Perceval Devereaux
Riley Droppleman
Meghan Goin
Abigail Harkness
Ryan Hassel
Mihir Kalé
Eleni Karelis
Stephane Mason
Ana Liese Mitchell
Olivia Morris Bush
jade nicely
Lauren Nieman
Casey Ott
Elie Raymond
Brooke Saurer
Jason Sikes
Peyton Skaggs
Elli Spanier
Megan Van Gilder
Robert Vaughan
Natalie Vincent
McKayla Weaver
Elias Weekley Cope
Kaitlyn Williams
Anika Anil Yadav
College of Communication and Information
Olivia Ackerman
Rayleigh Deaton
maya elias
Mallory Quisenberry
College of Engineering
College of Fine Arts
Isabelle Pethtel
Patricia Saunders
The UK Phi Beta Kappa Chapter is supported by the Chellgren Center for Undergraduate Excellence within the Provost's Office. For membership information, contact [email protected]