Make tracks: Put away the skis, take out your bike | Life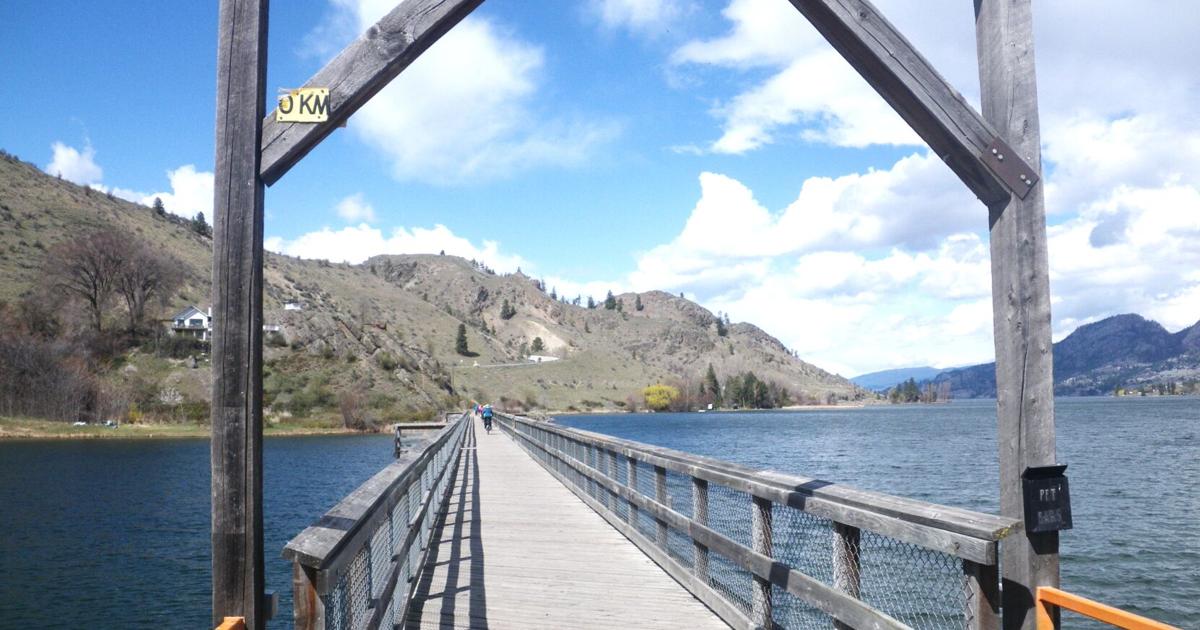 There were clear blue skies over Kelowna last Saturday morning when the bedroom blinds were opened. Then overcast, followed by dark clouds. Then a barrage of hail, enough to cover the horses' backs.
There was intermittent rain and hail as the sheriff traveled to Penticton for an Okanagan Ebike Riders group outing along the shore of Skaha Lake. What unpredictable spring weather.
But the South Okanagan crossed into glorious sunshine as we rode the old South Spur of the historic Kettle Valley Railroad.
OK, there were five to 10 minutes of miniature snowballs cascading over rain gear as our group laughed.
All that hot sun meant an ice cream lunch at Tickleberry's on Main Street in Okanagan Falls. (No black cherry!)
On Tuesday, Cyclepath Kelowna held its latest bike clinic for Meetup members, this one focusing on e-bikes. The Sheriff has been attending these clinics for the past three years and despite accumulating all that advice from owner Garry Norkum, the Sheriff has learned something new each time.
BTW, with its recent expansion to 11,500 square feet, there's no other single-location bike shop close to its size indoors. And it rivals any of the bigger bike shops in Vancouver and Victoria.
Last Sunday, the Big White ski resort ended its winter season in style with -10°C and four centimeters of new powder — 31 cm over the past seven days. The alpine snow base was an impressive 236cm or 93 inches.
On Wednesday, the nearby Kelowna Nordic Ski and Snowshoe Club reported -7C, no new snow but sunny, blue skies.
"Wonderful skater groom from the Kallis and Summit parking lots around Outer Cabin. Classic single track from Thunder Mountain to Moose Track and back. Go up 120 meters from the Kallis car park.
And the Sovereign Lake Nordic Center posted its season finale salute on Sunday: "Well, this is the day I've been dreading all season. It was -4C with 2cm of fresh snow. Everything was really well taken care of. The children of the Academy are taking up their 100 kilometer challenge today starting at 5 a.m. Come and ski a few slopes with them. … It has been our pleasure to groom this season for everyone. Have a good summer."
—————
It might be late in the season (or early for next season), but the Sovereign Lake Nordic Center has just hired an additional full-time, year-round coach to lead the Biathlon Academy program as well as help in the Ski Academy program, which is part of a major expansion of programming for next winter.
If you watched the 2022 Olympics, Roddy Ward's name will be familiar to you as an Olympic analyst and CBC commentator for the biathlon events in Beijing.
The long-time Canmore resident has held the positions of Club Coach, National Team Coach, High Performance Director and Director of Long Term Athlete Development with Biathlon Canada.
Last season, he launched Remodic, a remote delivery program focused on athlete training, coach mentoring and technical development for youth and master athletes. A series of webinars on technical and mental training techniques for cross country and biathlon are also offered.
With a Masters in Education focused on coaching specialization, Ward brings over 17 years of high-level coaching experience.
He has coached athletes to five national cross country championships, nine national biathlon championships and coached athletes to medal performances at the World Cup and World Championships, Sovereign GM Troy Hudson said.
—————
Lara Phillips is organizing the Okanagan Valley's participation in the 2022 City Nature Challenge.
"The City Nature Challenge is an annual international BioBlitz in which more than 400 cities participated last year," said Phillips.
"We are looking for interested people to join us in collecting data over the weekend of April 29-May 2, and possibly to support this by identifying sightings from May 3-9 with any taxa you know well. "
Taxa is a scientific word for groups of species such as birds, mammals, fungi, shrubs, etc., she explained.
"It's a great opportunity to get out and learn about nature while contributing to community science," she said.
"I have already contacted several groups in the valley, especially stewardship, naturalist and outdoor organizations. Our project boundary includes the regional districts of North Okanagan, Central Okanagan and Okanagan-Similkameen.
Participate as much or as little as you want; recruit your friends, family and fellow naturalists; or even host your own event. If interested, join the project at inaturalist.ca/projects/city-nature-challenge-2022-okanagan-valley.
"Once you join our project, any sightings you make during the four days of the challenge will automatically be included in the final tally. You can identify any type of species you wish – birds, insects, plants, fungi, animals, etc. Native or invasive, it's up to you," she said.
It aims to have a lot of participation and to cover as much territory as possible in the region.
For more information, see the event page at bcinvasives.ca/
news/join-the-city-nature-challenge/
The idea is to take photos of wild plants and animals in your garden, local park, and town.
"Our backyards and local parks in British Columbia are home to tons of native wildlife organisms as well as many invasive weed species. We all want to record and report them," Phillips said.
—————
The Friends of Knox Mountain Park invite the public to hear Melanie Steppuhn, Parks Planner for the City of Kelowna, talk about the Knox Mountain Park Management Plan.
The meeting will be held from 6-7:45 p.m. on April 27 in Classroom 1 on the second floor of the Okanagan Regional Library branch on Ellis Street in downtown Kelowna. Face masks are recommended.
The society also encourages the public to become a member of the organization at a cost of $10/individual or $15/family.
JP Squire, aka the Sheriff of Hiking, Biking, Kayaking and Horseback Riding, is a retired journalist. Email: [email protected]