InfoComm 2021 served as a homecoming for the professional audiovisual industry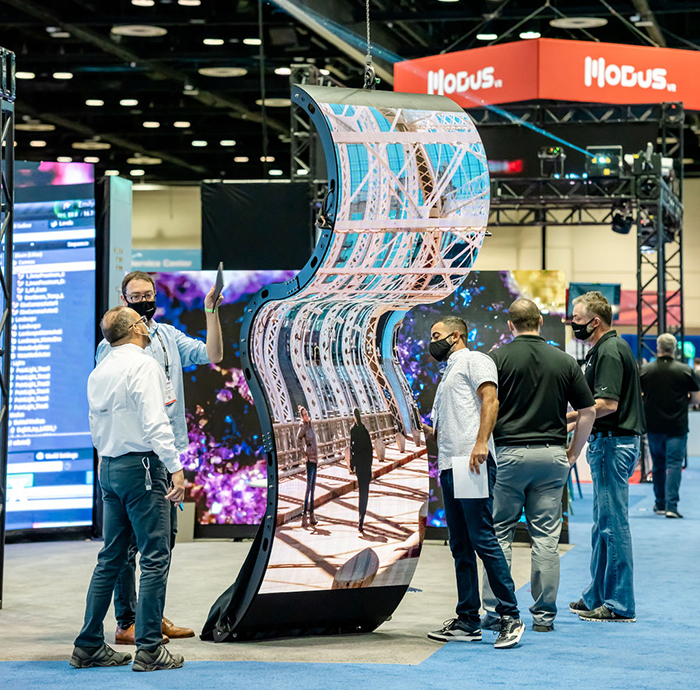 After more than two years without a live performance in North America, InfoComm brought together the professional audiovisual industry once again to connect, learn and celebrate the industry's resilience in the face of adversity.
Held October 22-29 at the Orange County Convention Center in Orlando, Florida, the annual tech show and conference hosted 7,335 in-person attendees, who gathered in person to interact with tech, meet and conduct business, learn about the latest trends and celebrate industry leaders.
"InfoComm is the home of commerce, networking and learning in the audiovisual industry," said David Labuskes, CEO of the Audiovisual and Integrated Experience Association (AVIXA), which produces the emission. "It was amazing to be back in person and welcoming audiovisual professionals to help them grow their businesses, their careers and their knowledge base."
At the show populated by serious buyers looking to strike deals with 254 exhibitors covering 124,100 square feet of exhibit space, many exhibiting companies have enthusiastically said their return to the show was worth the investment.
"This InfoComm went well… much better than we expected," said James Liu, president of Absen Inc. A project or talk about partnerships with Absen.
David Pedigo, CEO of Auralex Acoustics, was delighted to share that his company's booth had paid for itself within three to four hours of the show opening.
"Everything that followed was just gravy," Pedigo said. "We had end users from the sports, education and corporate markets placing orders, as well as many integrators who came to us who didn't know they could act as resellers. . "
As in previous years, InfoComm's conference was also at the forefront of the event, with over 90 sessions taking place in meeting rooms or at the trade fair. About 811 attendees took part in a wide range of educational opportunities, including three-day courses held prior to the opening of the fair; dedicated conference tracks covering priority industry topics; and 25 open sessions at the technological innovation stage covering trends in professional AV solutions, a state-of-the-industry presentation by AVIXA's market intelligence team, and product announcements and demonstrations.
Networking opportunities also abounded at the show, including AVIXA board events, awards and after-hours celebrations combining business and community engagement.
"This InfoComm was all about connecting with people in person," said Cory Schaeffer, director of alliances and ecosystems, QSC. "It's amazing how nice it was to see friends from the industry and reconnect. "
The audiovisual industry's commitment to diversity, equity and inclusion was also noticeable throughout the show via the annual AVIXA Women's Council breakfast and the Council event. diversity featuring keynote speakers and productive discussions; the launch by the Higher Education Technology Managers Alliance (HETMA) of the AVIXA-backed Prism Fellowship, designed to support the growth of under-represented communities within the higher education tech workforce in the United States; and the availability of gender neutral bathrooms throughout the convention center.
To ensure InfoComm is a safe and healthy experience for all participants, AVIXA has a comprehensive plan in place that was created with advice from local and state health authorities, including Orlando Health, the Florida Department of Health, and the CDC. Protocols included:
Mandatory mask wearing

Proof of a negative COVID-19 test result or proof of complete vaccination

Using the

CLEAR Health Pass app

for a negative COVID-19 test verification or proof of vaccination for residents of the United States. Alternatively, participants could bring documentation of a negative COVID-19 test result or vaccination information

Availability of free COVID-19 rapid tests at the OCCC for attendees and exhibitors
For those who were unable to attend the show in person, InfoComm also presented a virtual experience From October 27 to 29, which included a virtual event after the show on November 9 and 10 with interactive sessions and one-to-one meetings with exhibitors.
Available on demand through November 30, digital content is complimentary for those who attended in person, while digital audiences must register for a virtual pass only.
Programming includes a daily InfoComm morning show with interviews with key speakers and industry experts; the recorded live broadcast of the technological innovation stage; and the main presentation of the AVIXA Women's Council by Sara Potecha, author of West Point Woman: How Character Is Created and Leadership Is Learned.
"The AVIXA team expresses our sincere gratitude to everyone who made InfoComm 2021 possible, including our members, attendees, exhibitors, sponsors, media partners, suppliers and many more," said Rochelle Richardson, vice-president senior president of exhibitions and events of AVIXA. . "We could not have produced a show in 2021 without the commitment, loyalty, dedication and support of so many people in the professional audiovisual industry."
InfoComm 2022 is scheduled for June 4-10 at the Las Vegas Convention Center.
Don't miss any event news: subscribe to our weekly e-newsletter HERE and engage with us on Twitter, Facebook, LinkedIn and Instagram!