British Columbia approves work of Vancouver Indigenous Center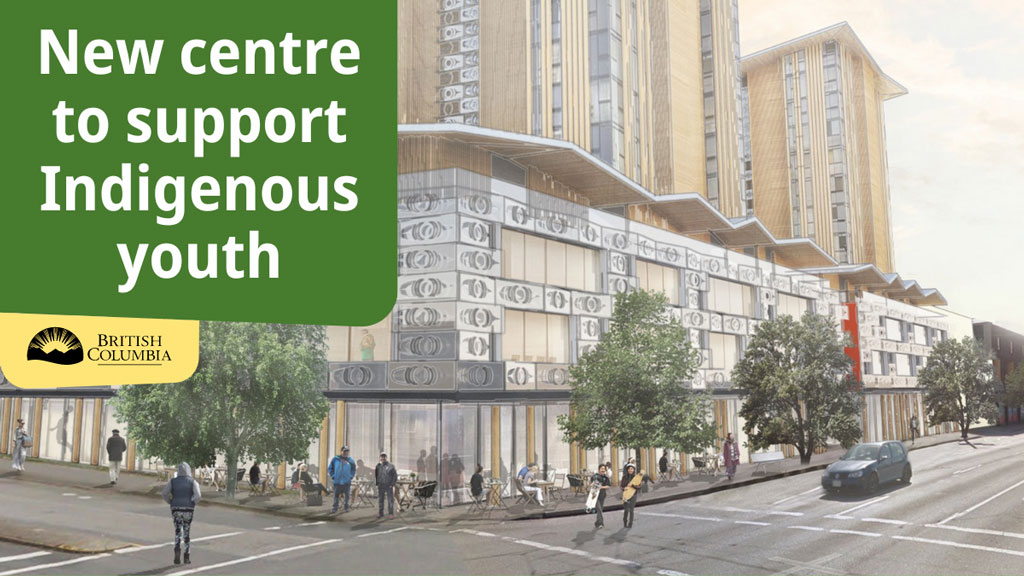 VANCOUVER—Work on a new Indigenous center is progressing in Vancouver.
The concept plan includes a youth centre, post-secondary education and vocational training campus, affordable housing, daycare, and cultural and support services.
"Completion of this project will not only be a transformative moment for Indigenous youth and their families who live in Metro Vancouver, but it will be of immense benefit to the city and the province as a whole," said Matthew Norris, president of the Urban Native Youth Association (UNYA), in a statement. "This center represents an important step forward in addressing the legacy of residential schools, intergenerational trauma and the realization of the United Nations Declaration on the Rights of Indigenous Peoples.
The new center will be a permanent space purpose-built for UNYA and the Vancouver campus of the Nicola Valley Institute of Technology (NVIT).
Plans for the center came after calls to action from the Truth and Reconciliation Commission and the British Columbia Declaration on the Rights of Indigenous Peoples.
"As more and more Indigenous people choose to live in Metro Vancouver, there is a growing demand for community-based and culturally relevant services," said Premier John Horgan. "This new center will help fill the need and seize the opportunity, serving as a national example of Indigenous-led transformational change. By working in partnership with Indigenous peoples, we are building a stronger province where everyone has access to opportunity today and for generations to come.
The province will provide $2.5 million for the development of the business case to finalize the scope, timelines and sources of funding for the project.
The province said the current UNYA facility is too small for its growing community and was built in a way to discourage young people from going there. The purpose of the new center will be to provide a welcoming and centralized space for UNYA youth programming, including classrooms, multimedia labs. , art studios, community spaces for Elders, traditional ceremonial spaces, a health and wellness clinic, as well as sports and recreation areas.
NVIT currently leases space in Burnaby, which is remote from most of the students it serves. The province noted that the space is also at full capacity and lacks the specialized learning environments needed to expand its programs. NVIT's new permanent home proposes to include purpose-built classrooms, media labs and reading areas, a crafts workshop, library and study areas, and a student lounge.
In addition to child care and affordable homes for Indigenous people and their families, the center could also include common areas, such as a community kitchen and cafe, a bookstore, an outdoor gathering area, and ceremonial spaces.
"For a generation, urban Indigenous youth have been planning this day. The vision for this center responds directly to the many calls to action from young Indigenous leaders who have challenged all levels of government to create pathways for their flourishing," said Melanie Mark, MPP for Vancouver-Mount Pleasant. "This center weaves together culture, education, well-being and empowerment in a groundbreaking space for reconciliation. Most importantly, the creation of this one-of-a-kind center of excellence sends a signal to all Indigenous youth that their lives matter Indigenous youth deserve every opportunity to dream big and excel as they recover from the calculated decisions of past governments that used residential schools to kill the Indian in the child.
Land contributions from UNYA and the City of Vancouver and a land donation from Suncor Energy Inc. have been conditionally secured.
The project is located on the territories of the Coast Salish people, which includes the xʷməθkʷəy̓əm (Musqueam), sḵwx̱wú7mesh (Squamish) and sel̓íl̓witulh (Tsleil-Waututh) nations. The building will be located at the corner of East Hastings Street and Commercial Drive in Vancouver, near the current UNYA building.
The center will be operated by UNYA, with NVIT partners and TBD housing and childcare operators contracted through the City of Vancouver.