Alumni Q&A: Leading During the Pandemic | College of Education, Health and Humanities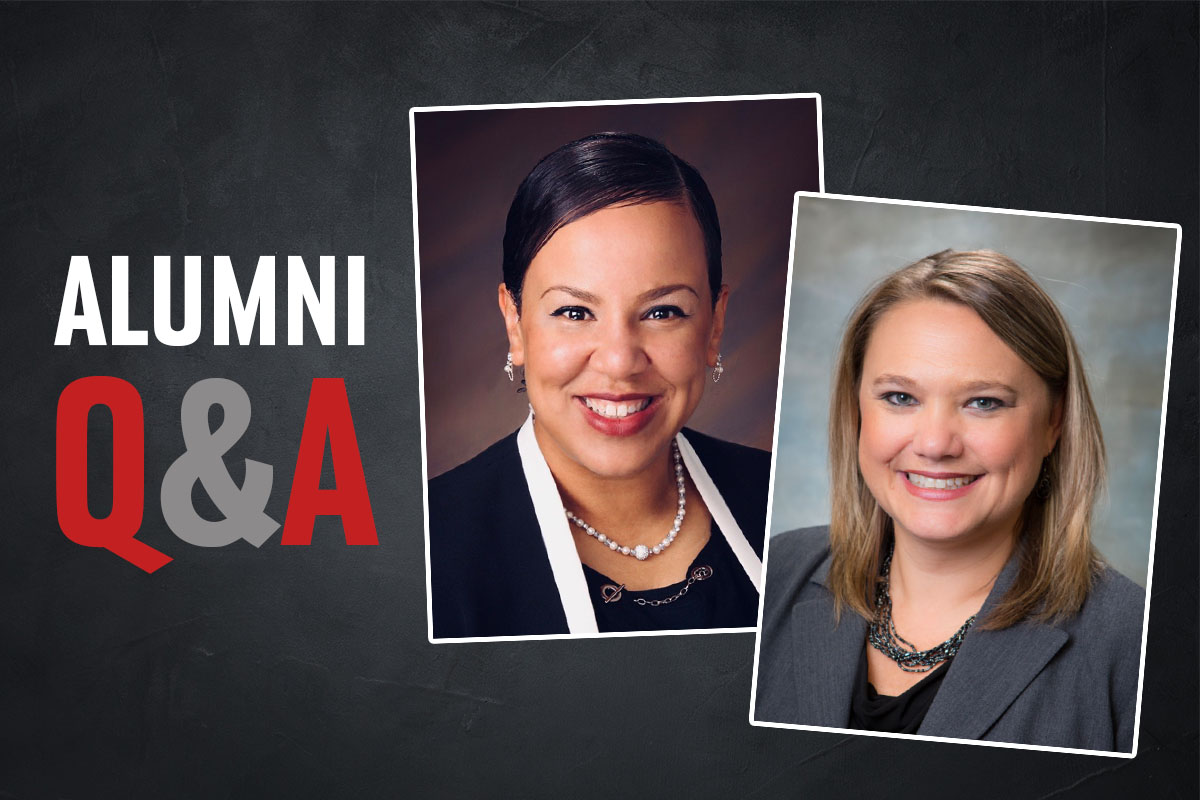 [ad_1]
Dr. Heather Nebesniak and Dr. Andrea Haynes graduated in 2016 from the Department of Educational Leadership doctoral program and both share early childhood training.
As leaders in Nebraska school districts – Dr Haynes at community schools in Westside, one of the Omaha metro school districts, and Dr Nebesniak at public schools in Ord, a smaller rural district – they faced similar challenges during the pandemic: how to react and plan around an unprecedented event, while meeting the needs of their staff and students. Both champion the importance of advocacy and support for teachers, as well as the critical need for mental health and other basic services at this time.
"Almost all of the students experienced mental health and wellness issues. Many have lost access to school-based services and supports for a long time, with early research showing disparities based on race, ethnicity, LGBTQIA2S + identities, students living below the poverty line and 'other factors,' explained Dr Haynes.
"Stakeholders can partner with schools to ensure that we have the critical infrastructure for mental health support for all students. This includes access to social workers, outpatient treatment, strong programming for integrated socio-emotional learning in the classroom, less academic pressure and more psychological support. "
Dr Nebesniak has set up two essential services in Ord: a food aid program and mental health support. At the start of the pandemic, building managers, the school nurse, and staff from Dr. Nebesniak's nutrition services set up a summer meal program. In addition to serving take-out meals on site, transportation staff delivered food directly to families at the school and to a nearby community collection site.
"We drove food all summer long and as an added bonus we could have our eyes on our kids. I likened it to home visits for some families. Our directors and staff saw the daily life of the family. our children. They saw this interaction, "explained Dr. Nebesniak.
"We also launched a new assistance plan that provided counseling for our kids. It's pretty common in the Omaha metro area, but it was unheard of here, and it took the pandemic and the dollars CARES to make this happen for us. The number One feeling I heard from parents was, "I know my kids are doing well, but I'm worried about the kids who don't have home that I have.""
Q: How has the pandemic changed you as a leader?
Dr. Haynes: "I have found great value in being able to practice 'intentional calm'. I see it as the ability to break away from a panic situation and think clearly about how to handle it. Intentional calm is a focus on humility but not helplessness. I can now better see past challenges as obstacles and see them as problems to be solved or even learned. When a leader is deliberately calm, the team and community can tackle challenges in more creative ways.
My training at the UN gave me the necessary mindset that continually helps me look to the future, think critically and stay nimble. "
– Dr Andrea Haynes
"At Westside, we continue to focus our day-to-day efforts on supporting our frontline construction staff (teachers, administrators and support staff) by arming them with the most recent Covid-19 procedural security information they have. need to do their job effectively. every day and keep our school communities safe. One thing we have learned from slowing down and proceeding calmly is that our school staff based in the buildings have been hit hard by the negative impacts of this pandemic. Providing formal means to listen to and assess their feedback helps us at Headquarters make more informed decisions every day. "
Dr Nebesniak: "Every day 700 people come to our two buildings. Nowhere else in our county, in our region, do 700 people gather daily. We have a responsibility to keep the buildings safe and clean, to feed the students, to look after themselves. making sure that the paychecks go to the staff and making sure that the quality of life they want can happen. This responsibility is enormous. "
"I learned through this process to give more grace, and also to be very vocal about grace. So many teachers and parents were worried about the grades during our shutdown. I can't say that the grades weren't there. 'don't matter, but I had to be able to express where we were going to end up during this pandemic. I learned to be more articulate and determined, because I know that as a leader, when I say something, that often instantly means "do or go." It took a long time to get to a point where we could all understand, we need to have a safe place to think about ideas, to give ourselves time to think and plan before we do. 'to act."
Q: How has your UN leadership degree helped you meet the challenges of the pandemic?
Dr. Haynes: "My education at the UN provided me with the necessary mindset that continually helps me look to the future, think critically and stay nimble. Whether as a building leader at the start of it all or now, as an assistant superintendent, I'm ready to unify the teams behind a single goal and frame the issues our team needs to investigate and resolve. The UN EDL program has equipped me to embrace action, even in ambiguity. Understanding that often you will not be able to judge your decisions until you succeed or fail, it takes a great deal of courage and a deep sense of self. "
"Plus, my EDL experience has taught me that fast action doesn't involve rushing headfirst into the movement. It requires an assessment of what is most at risk and where you need to shift gears. , take advantage of people who can help you see a new angle, then create a quick action plan. "
Dr Nebesniak: "My networking experience was so important. At the start of the pandemic, I couldn't make decisions on my own. There were 18 7-hour days when I was absolutely exhausted, and my phone was still ringing at midnight. When I was working in the Omaha region, I was part of MOEC. I attended the UNO Leadership Academy so I had great resources and contacts from there. I was constantly in contact with other administrators. In my rural world, this is not always the case. The Association of Rural Community Schools of Nebraska (NRCSA) has become very important. I have worked with other rural superintendents to create a plan to return to school. school that was shared with NDE. It helped our voices to be heard. And my fellow superintendents in Omaha said, "We want to participate in this. We" are not a member of the NRCSA because we are not rural schools, but you are doing a great job! ' This work has helped to build a bridge, to create a standard practice. "
---
This story appeared in the latest issue of the College of Education, Health and Humanities Annual Report.
[ad_2]